La Divine is descended from St Landelin. It is a golden beer. La Divine is a 8.5` proof, sweet and generous beer. Thanks to its swing-top bottle and its sober label, La Divine Will delight all sensitive beer lovers who appreciate tradition and authenticity.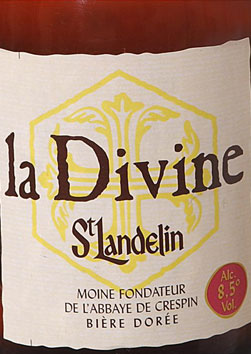 La Divine

Technical Date
La Divine is a beer of high density subjected to high fermentation with a specially selected yeast.
After a long storage period, La Divine is bottled in 75-centiliter swing-top bottles.
Alcohol content : 8.5%/Alc/vol
Tasting notes
When tasting la Divine, you will appreciate its fruity, woody and sweet caramel aromas and its light bitterness, persistent in the mouth. You will also appreciate its fine taste when drinking it.